Each guest room is handmade modern: a contemporary expression of traditional outport design and decor.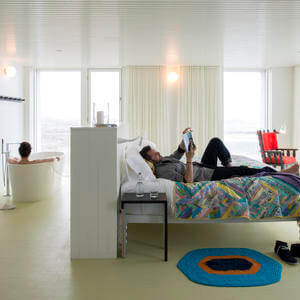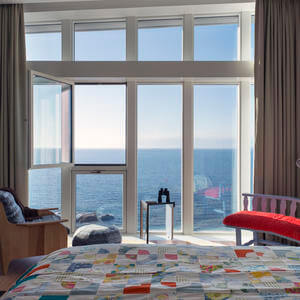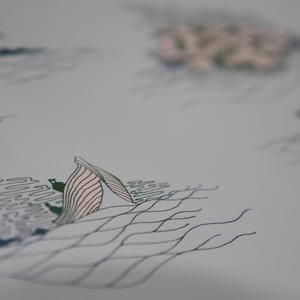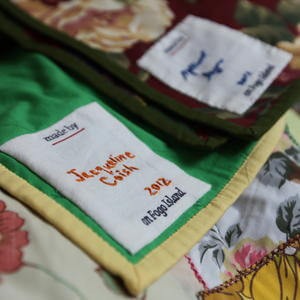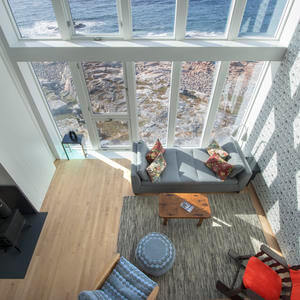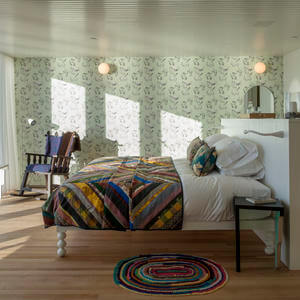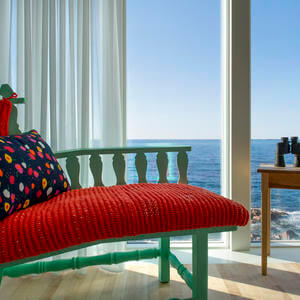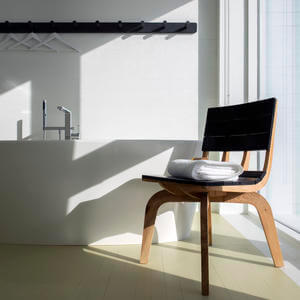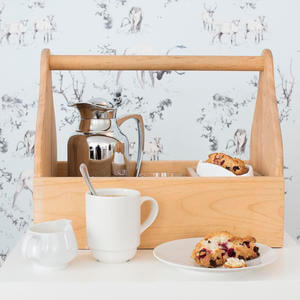 Room Types
Labrador Room - 1st Floor
Labrador Room - 2nd Floor
Labrador Room - 3rd Floor
Newfoundland Room
Fogo Island Family Suite
Fogo Island Family Loft Suite
Fogo Island Loft Suite
Fogo Island Sunrise Suite
Fogo Island Sunset Suite
Flat Earth Suite
Every stay includes
All meals (welcome snack, daybreak service, breakfast, lunch, supper) and all non-alcoholic beverages.
Half-day Island Orientation with a Community Host.
Most land-based excursions.
Nightly turn down service and 24 hour room service.
A completely smoke-free environment.
Full use of all facilities within the Inn:
Cinema screenings, Rooftop Sauna and Hot tubs, the Tea Room, Fogo Island Art Gallery, Gym, and Heritage Library.
Spectacular ocean views from every room.
Floor-to-ceiling windows with swing-open sections.
Natural wood floors with in-floor radiant heating.
Exceptional soundproofing.
Custom-made, organic, natural-fibre beds.
Heated towel racks and heated toilet seats with built-in bidet.
Full wireless, complemented by discreetly hidden technology.
Custom designed, locally crafted furniture and textiles.
Wood burning stove featured in many rooms.
Room amenities include: robes, slippers, books, locally sourced toiletries, and an array of creature comforts all provided with resting, lounging, and simply "being" in mind.
Our Inn is a non-tipping social enterprise. A portion of the Inn sales (15%) is shared among employees as part of their compensation.