Executive Retreats
Coming here means your executive team will go far.
Go Deep —A retreat at Fogo Island Inn sparks deep thinking and focus. Whether you're talking strategy in a meeting room overlooking the Atlantic Ocean, letting ideas bubble up as you walk coastal trails, or "sleeping on it" in your handcrafted bed, you can anticipate powerful breakthroughs. 
Go Wild — While city retreats pull teams in all directions, here unity happens organically. When you're not working, you'll feast together, on inspired regional dishes; you'll relax with drinks and hot-tub under the stars on the rooftop. And you'll have free time for activities like hiking, caribou- or puffin-spotting, ice fishing, visiting a cabin in the woods, or enjoying a seafood boil-up over an open fire. How better to build team spirit? 
Go for the Close — You and your team have gone to the end of the Earth to make the deal happen. Now, it's time for the ultimate closing supper. From our Dining Room, you might see drifting icebergs, breaching whales, or heart-stopping sunsets with skies streaked tangerine, as you dine and toast. Expect to be moved – and to never forget.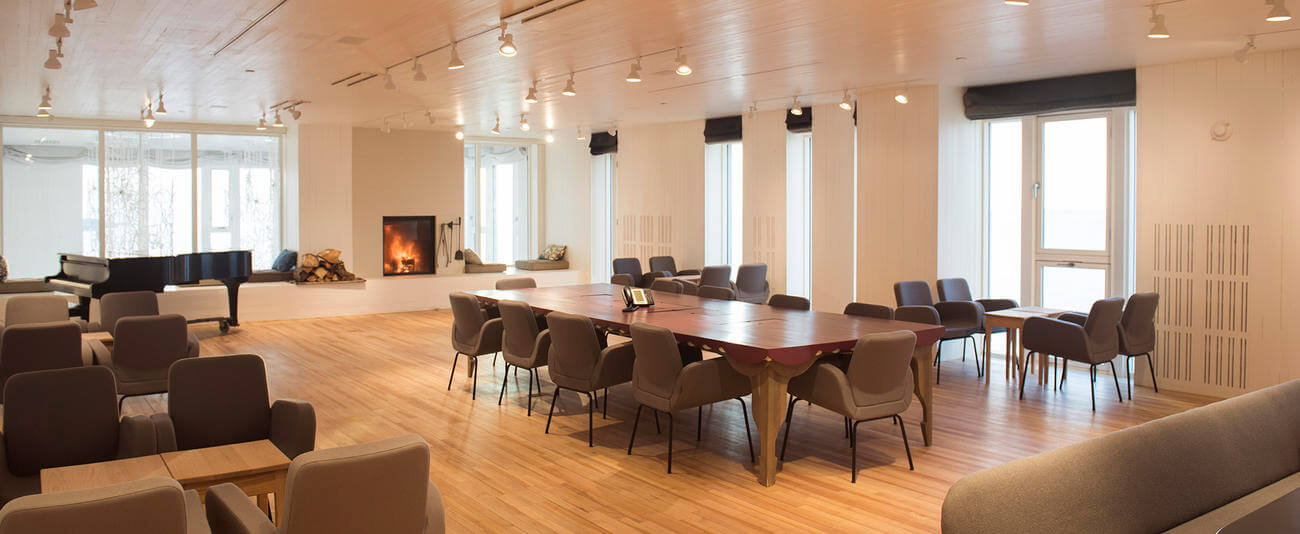 Indoor Gathering Spaces — The public areas of the Inn have wood-burning fireplaces and stoves to create inviting hearths for quiet reading and relaxation, or to enjoy the company of others. On the Inn's ground floor are our Art Gallery, Tea Room, Dining Room, Lounge and Bar.   
Our second floor Gathering Hall is ideal for most any meeting, event or presentation. It offers sweeping vistas of sky and sea. This spacious room has a wood-burning fireplace, in-ceiling projection screen, large wooden conference table, ample seating, conference telephone, and all the support you need for an executive meeting. There is even a grand piano, for musical interludes, and there are plenty of neighbouring spaces for break-out groups.  
On this floor, there's also a 37-seat state-of-the-art Cinema and adjoining Library, which specializes in literature of the local region. The Cinema doubles as a lecture theatre, and the Library provides group seating and floor space. 
Our Shed is located a short walk from the Inn, on the rocks of the foreshore. It complements the main building aesthetically and provides a more informal setting for activities such as brainstorming, team meetings, workshops and dining. Weather permitting, your team can also meet on the covered terrace. The Shed is licensed and a fitting venue for group meals, where team bonding happens organically. 
And finally, our fourth-floor rooftop is the ideal setting for an evening cocktail or breakfast with over 1,130 square feet of outdoor space, a third of it covered. 
Even more:   
We offer secure broadband Wi-Fi throughout the Inn, teleconferencing, digital projection with a range of large-screen options, PC and Mac laptops, office supplies in tackle boxes, and our detail-oriented staff to provide support throughout your stay and deliver anything else you need. 
If you need more space, there are also some community locations neighbouring the Inn for off-site events, meetings and activities. 
From touchdown at the landing strip, your team will be invigorated by the raw beauty and drama of this island-off-an-island. And when you set eyes on Fogo Island Inn, an architectural wonder built collaboratively by local master artisans and leading-edge international designers, you'll know your retreat here will be a game-changer. 
Fogo Island Inn was designed to challenge the expected and make a real impact in the lives of people who come here. It is pioneering both in its architecture and how it is run as a social business. This has been recognized from the outset through major design, hospitality, environmental stewardship and entrepreneurial awards. In a place created by visionaries, you can only do your best work.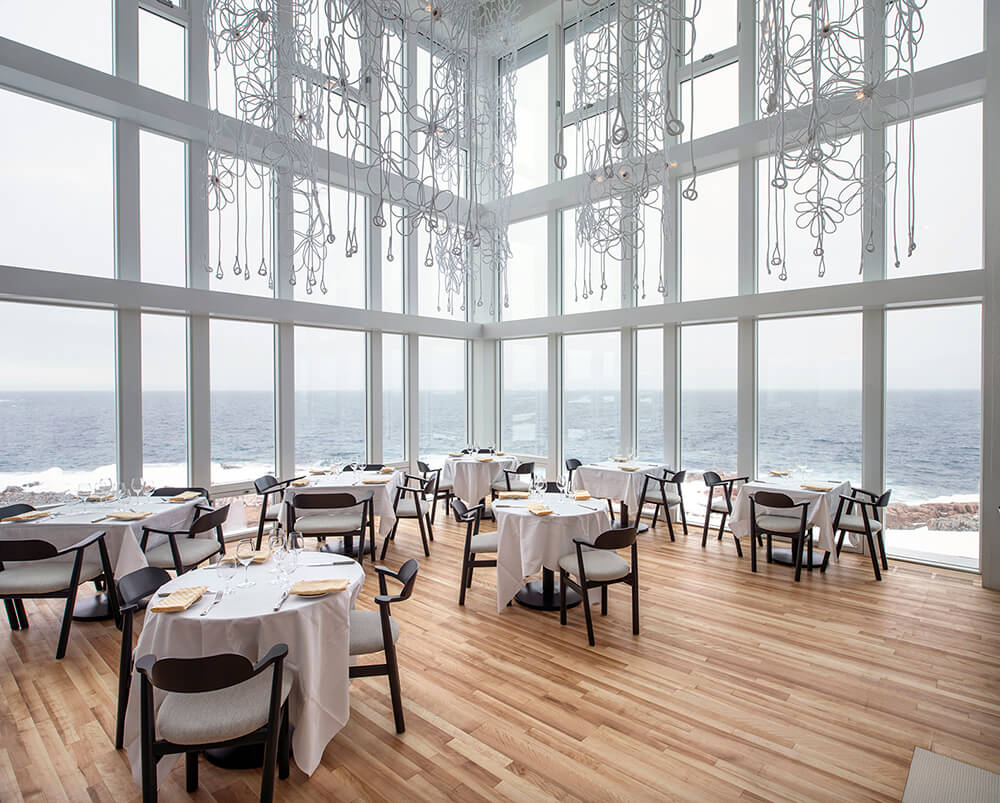 Retreat Inclusions
Group rates for each of the Inn's 29 rooms and suites include all meals, access to the Inn's amenities, all gratuities, and most land-based excursions.  
Meals: Daybreak Tray, Breakfast, Lunch, Supper

 

All 

gratuities

 (as 

one of 

Shorefast's

 

social business, 

with 

community at the heart of our operations, 

we

 

ensure 15% of pricing is allocated to a bonus pool, to be shared 

equitably among 

Inn staff.

)

 

Access to all meeting spaces

 

Coffee break fixings

 

Access to the 37-seat digital Cinema/Lecture Hall

 

Basic a

udio

visual 

equipment

 

An Island

 Orientation

 

or activities

 

with a Community 

Host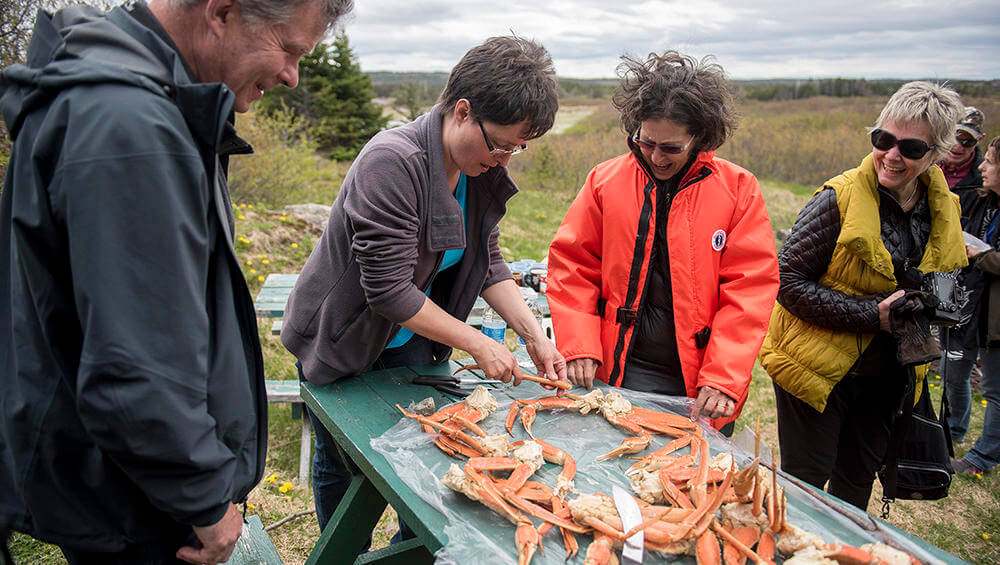 Optional Retreat Activities
We can provide additional team-building programs or customized outdoor excursions, on request. A sampling of the options available to your team include: 
A Fogo Island Punt Race

 

Art Workshops

 

Boat Building Workshops

 

Chef and Colleague Forage

 

Furniture Building

 

Geology Tour

 

Kitchen Party

 

Outdoor Boil-Up

 
 Plan your executive retreat: [email protected]