Winter
December 1 - February 28
At first glance, the winter pace on Fogo Island appears to be slow, calm, and collected. While the landscape outside is encased in ice, we busy ourselves indoors with making, fixing, and organizing while fluffy snow blows across our windows and the wind whistles past our doorjambs.  
But a trip into Fogo Island's interior finds a far more lively speed as local people retreat to cabins alongside frozen ponds for exuberant days spent snowmobiling, skating, snowshoeing, and tobogganing. As caribou wander by in the distance, we light the woodstove or an outdoor bonfire to cook up a crowd-pleasing jiggs dinner of salt meat and pease pudding.
Winter excursions bring out the kid in all of us as we don snow pants and mittens and often allow the youngsters to dictate the day's itinerary. Sheltered from the harshest coastal winds, holes are bored on ponds for ice fishing and impromptu games of hockey are played outdoors while board games, books, laughter, and conversation reign inside cabin walls.
Here, winter is what you make of it, and Fogo Islanders know how to make it spectacular.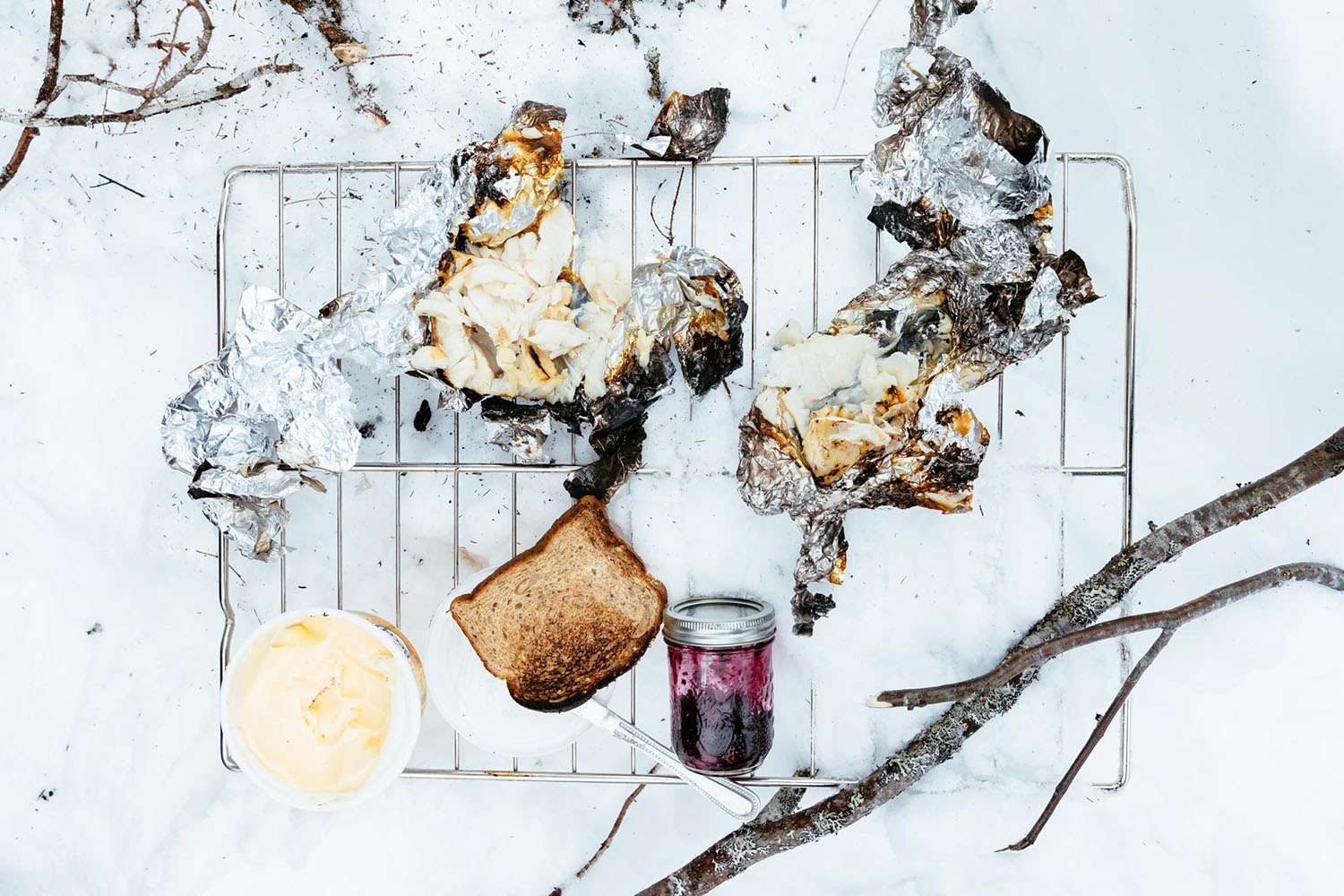 In Winter, we celebrate highlights of the year's bounty through bottled, pickled, infused, fermented, and powdered ingredients, all made in house. We draw on pantry favourites such as dried wild mushroom (king bolete, with their distinctive forest-floor aroma and candy caps, with their brown-sugar hints, among others); fruit vinegars, made with deep-purple damson plum and snappy wild apple cider; and salted aronia berries, which lend complex sour, plummy and almond notes to dishes.
We also love serving up a centuries-long Fogo Island favourite: salt fish. There is nothing so satisfying as the firm and slightly gelatinous texture of cod preserved in this way. Raisin bread with salt fish is a treasured Christmas tradition locally.
Cellared root vegetables often take centre place on our plates too—the colder temperatures in winter bring out the natural sweetness in beets, carrots, and turnips. And we use preserved foraged items—such as pickled juniper berries—to punch up sauces, vinaigrettes, drinks, and marinades. Fresh kale still peeks through the snow, against all odds, and we source fresh herbs and greens locally from Living Water, Fogo Island's hydroponic farm.