Press
From Bloomberg Press to The New York Times and the Financial Times, our Inn has been featured in hundreds of publications worldwide.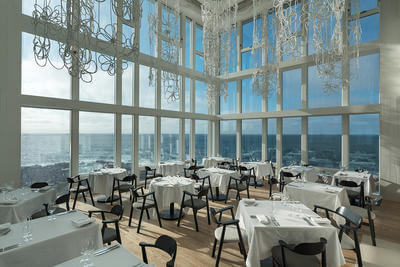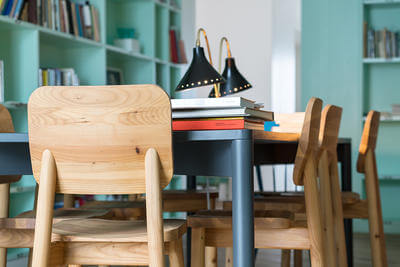 "The Inn thrives because of the island, and the island thrives because of the Inn. It's a beautiful cycle."
"More than an architectural masterpiece, Fogo Island Inn shows what's possible when someone cares about the planet and its people. "

"Remarkable in its sophistication and style, [Chef Jonathan Gushue's] menu leans heavily on local ingredients, while managing to reach gastronomic heights without an ounce of pretension. The Fogo Island Inn, which opened in 2013, may be one of the world's most magnificent hotels, yet there is absolutely nothing fussy about the place."
"I've wanted to visit Fogo Island Inn since it opened. Fogo Island is one of the four corners of the world. There's this beautiful building perched on stilts surrounded by a desolate subarctic landscape. I want to dive into that off-the-grid isolation for a week [...]"
"Work hard, play harder: The new face of corporate 'workation' retreats."
"In short, it is the greatest Atlantic Canadian success story in recent years and tellingly, it stemmed from a place of social value, not greed."
"The inn's most indelible mark, however, is the hospitality -- the sense of community that can be seen throughout."
"...islands invite us to investigate the edges of our own identity and our relationship to the world"
"The story of Fogo Island Inn is as singular as the place itself."
"Art is the key to Fogo's reinvention, not because it comes with cash, but because it comes with consciousness, with communal self-knowledge and a sense of possibility."
"Fogo Island Inn is a place like no other, with a people who know how to squeeze beauty out of a life at its extremes."
"Rocky and windswept Fogo Island may look like nowhere you've ever been before, but spend a day on this far-eastern edge of Newfoundland, and you'll feel like you've come home."
"The Fogo Island Inn is the largest, whitest rebuttal to man's vanity seen in this part of the world since the iceberg that sank the Titanic."
"If the place is gloriously dislocating at first, Fogo Island Inn immediately grounds you with its indigenous beauty. The restaurant deftly uses forage-to-table ingredients—a shoreline leaf that tastes like an oyster and the surprisingly good caribou moss—to demonstrate that the rock-ribbed landscape seen through the double-height dining room windows is not quite as barren as it seems."
"Seen from certain angles and in certain weather, the inn appears to be a lumbering ship, only temporarily at rest while waiting out a storm. Above all, it is a work of strong architecture, carefully attuned to its mission yet autonomous in its presence in this strange and wondrous place. It is an act of human culture that helps us to try and situate our own existence within a sublime landscape that defies comprehension."
"The spectacular Fogo Island Inn promises both magic and enchantment as it sits in an oasis of contemporary luxury in a stark and unforgiving environment of wild nature."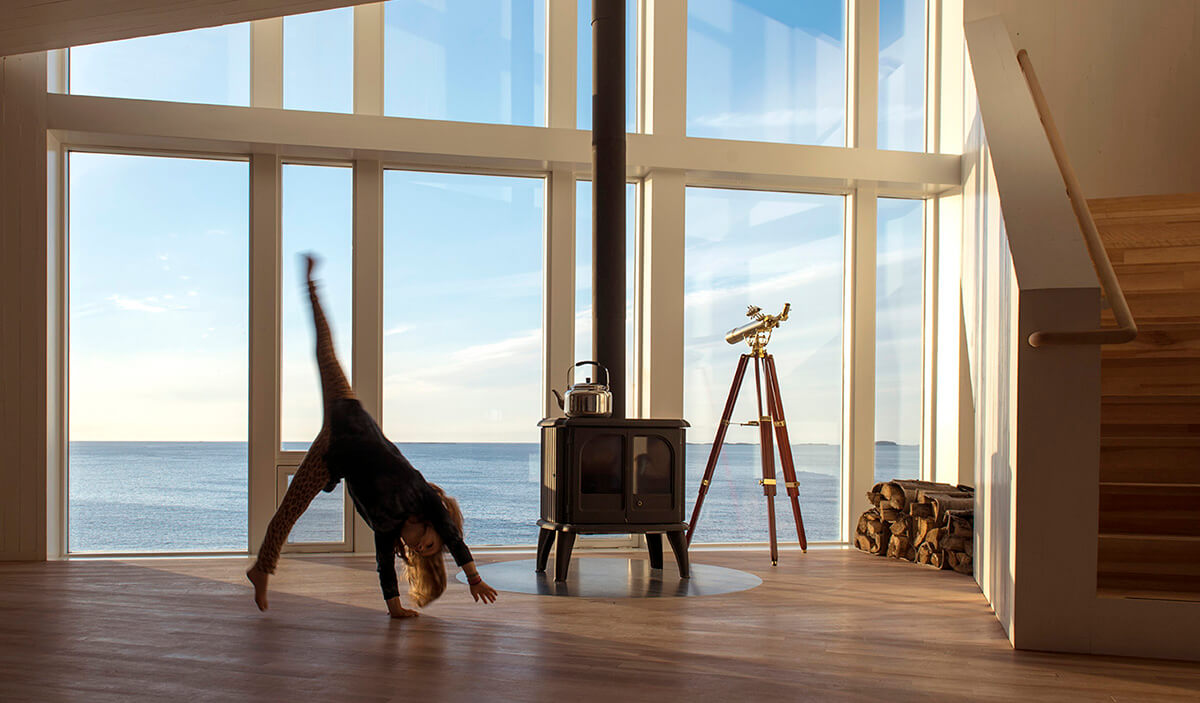 PRESS RELEASES
June 10, 2019 New Charter Air Service for Fogo Island Inn Guests
April 11, 2019 A Fogo Island Forage - Edible Excursions on Seasonal Edges
March 5, 2019  Author-Comedians Mary Walsh and Mark Critch Laugh off Winter at One of the Four Corners of the Earth Press Release
February 11, 2019 Icon of Southern Food Chef Hugh Acheson Returns North for a Culinary Collaboration at Fogo Island Inn with Executive Chef Jonathan Gushue
January 16, 2019  A "Little Island" Comes to the Big Island—Rugged Splendor: Fogo Island Foodways at James Beard House
January 9, 2019  March Break Away to Fogo Island's Dark Skies and the Inspiring Universe
November 21, 2018  A Merry Solo Christmas at One of the Four Corners of the Earth
October 26, 2018  Short Films Announced for Devour!: A Movable Feast of Film and Food Comes to Fogo Island Inn
September 25, 2018  Tibb's Tipples, Mischievous Mummers and Yuletide Traditions in a Still-wild World
August 14, 2018  Fogo Island Race Weekend Returns
August 10, 2018  A Wild Picking of Fogo Island Foodways This Berry Season
August 10, 2018  En Cette Saison Des Baies, Decouvrez Les Delices De L'ile Fogo
August 03, 2018 A Musical Canadian Thanksgiving Weekend
July 26, 2018 Forage and Fire
July 16, 2018  For the Love of Cod
July 09, 2018 Time for the Kids to Just Cool It This Summer on Fogo Island
July 05, 2018 Community Food Circle: A Discussion of past, Present, and Future Fogo Island Foodways
June 12, 2018  Still-Wild Summer
June 6, 2018 Canada Day: a Chef, a Sommelier, and Three Coast-to-coast Winemakers at One of the Four Corners of the Earth 
April 16, 2018 A Community Quilt Hang Out
March 23, 2018 A Crazy Quilting Experience at Fogo Island Inn
March 14, 2018 Top Ten Best Places to Hide an Easter Egg
March 12, 2018 Fogo Island Inn Celebrates 5th Birthday With Offer for Past Guests
March 08, 2018 Todd Saunders in Residence at Fogo Island Inn
February 21, 2018 In Search of the Great Fogo Island Easter Egg
February 05, 2018 The Luck of the Irish Meets Hockey Night in Fogo Island
January 19, 2018 Winter Cabins and Outdoor Family Fun on Fogo Island
December 20, 2017 for the Love of February on Fogo Island
December 15, 2017 Le Chef Cuisinier Jonathan Gushue Se Joint À L'équipe Du Fogo Island Inn
November 30, 2017 Chef Jonathan Gushue Joins Fogo Island Inn
November 03, 2017 Fogo Island Inn and Fluevog Have Made a Vow
October 25, 2017 Devour! Food & Film
October 10, 2017 Halloween on Fogo Island: a Spirited Adventure in Food and Ghostly Traditions
August 16, 2017 Feast Your Way Through Berry Season on Fogo Island
August 01, 2017 Beat the Heat and Cool It on Fogo Island
July 11, 2017 Travel and Leisure World's Best Awards 2017
June 30, 2017 South by Northeast: Fifth Annual Chefs' Weekend Canadian Thanksgiving
April 13, 2017 Happy (Fourth) Birthday to Us
March 08, 2017 An Outport Easter
February 03, 2017 Extreme Fogo Island With Ta Loeffler
January 13, 2017 Love Songs and Love Birds
November 17, 2016 A New Kind of New Year's Eve
October 28, 2016 Come From Away
October 21, 2016 Dream in Stripes and Dots
September 28, 2016 Culinary Forces of Nature
August 03, 2016 HAND.LINE.COD.
February 12, 2016 Love (the) Birds Valentines Weekend
February 05, 2016 Canadian Signature Experiences
August 27, 2015 A New Kind of New Year
August 11, 2015 Once in a Lifetime
July 01, 2015 Seven Days of Culinary Excellence, Community Chefs and Adventure in Newfoundland
June 18, 2015 The Fogo Island Punt Race Festival
May 20, 2015 Happy Birthday Us
April 27, 2015 Condé Nast Traveler 2014
April 17, 2015 Chefs on the Edge Thanksgiving Weekend
April 16, 2015 Fogo Island Inn Selected as Founding Member of National Geographic Society Unique Lodges of the World
April 09, 2015 Fogo Island's Culinary Process
March 19, 2015 Easter at One of the Four Corners of the Earth
February 27, 2015 Travel + Leisure
February 10, 2015 Magical Moving Ice of March
January 22, 2015 A Photography Expedition to One of the Four Corners of the Earth
January 21, 2015 Newfoundland Chef Invited to Culinary Migration Series
September 12, 2014 Chefs Come to the Edge
June 06, 2014 Circumnavigate an Iceberg
March 14, 2014 Questions of Travel (Fogo)
October 16, 2013 Travel + Leisure Award
August 15, 2013 (Go) Wild With Alan Doyle
June 25, 2013 Fogo Island Inn Is Open!
January 01, 2013 Canada's Best New Restaurants